In this guide, we'll compare the best cloud storage services for Linux. All cloud storage providers featured here have client apps and support available for Linux. All providers featured here are generally considered to be good and reputable providers with positive reviews.
A Quick Comparison of the Best Cloud Storage Services for Linux
| Provider | Free Storage | Cheapest Plan | End-to-end encryption | Linux app |
| --- | --- | --- | --- | --- |
| pCloud | 10 GB | $4.99/mo - 500 GB | Yes | Yes |
| Nextcloud | Unlimited | Self-hosted | Yes | Yes |
| MEGA | 20 GB | €9.99/mo - 2 TB | Yes | Yes |
| Koofr | 10 GB | €0.50/mo - 20 GB | Yes | Yes |
| Icedrive | 10 GB | $4.99/mo - 1 TB | Yes | Yes |
| Dropbox | 2 GB | $11.99 - 2 TB | No | Yes |
| Cozy Cloud | 5 GB | €2.99/mo - 50 GB | No | Yes |
| Tresorit | No | $13.99/mo - 1 TB | Yes | Yes |
| Filen | 10 GB | €1.99/mo - 200 GB | Yes | Yes |
| Internxt | 10 GB | $1.49/mo - 20 GB | Yes | Yes |
What makes a cloud storage service "the best" for Linux?
We had a few criteria when choosing these cloud services:
They are compatible with Linux. This means that they have client apps, CLI versions, and other compatibility with Linux distros. Some don't have native apps though, they only have third-party apps, and we've mentioned that. If a cloud storage provider doesn't have a native Linux app or a decent third-party app, we won't feature them here.
They have positive reviews online. Not the fake top 10 list reviews, we scoured the internet and looked for reviews of multiple cloud storage providers. We intentionally left some out that had more negative reviews.
They are privacy-focused and/or open-source. Linux users typically value privacy and open source software, so these were some of the criteria that we used for the cloud storage options.
We've used them personally. Most of the providers featured here have been used personally by us. And we like them so far.
They're not new. There are dozens of new cloud storage service providers popping out every month. We only featured services that are older and have already withstood the test of time and have been active enough to get reviews.
They have cross-platform support. Meaning that you can sync storage through multiple devices and operating systems. So you can work with your Linux storage on your Android device and vice-versa.
We've included both self-hosted and hosted options, and we've noted that for every option.
Why we didn't include ___ in our list
We intentionally left our certain providers. Here are the reasons:
Google Drive, OneDrive, Sync.com, Box.com – although relatively good options, they don't have a native Linux client. However, there's a web version and several third-party apps.
Yandex Disk – again, a relatively good option. They even have client apps for Linux. But we didn't include them in this list because they are a Russian company, so we're not really sure if your data can be safe.
ownCloud and Pydio – good FOSS cloud storage apps, but we included Nextcloud and we didn't want to overpopulate this guide with self-hosted apps. This guide focuses on cloud-hosted options.
Syncthing, Resilio Sync, and other syncing software – again, great options, but they are used to sync, not to store data on the cloud. And this guide focuses on cloud storage.
Proton Drive – they are a great company that focuses on privacy, but they don't have a Linux client. We really hope that they create one soon.
If you don't mind some of these services not having a Linux client, you can still use them. If you're satisfied with the web version or a third-party app, you are good to go.
If you think any of these should be included or if we missed any other – let us know.
We'll also keep updating this guide, we'll keep adding new providers, removing old ones, updating their features, etc.
General tips for choosing the best cloud storage option for Linux
If you need general tips and guidelines to choose the best provider, here they are:
If you have an option, go for a Swiss or European company. The laws around personal data and privacy are much more strict in Switzerland and the EU when compared to the US, even if you are a foreign national.
If you can, go for a provider that offers end-to-end encryption. Or zero-knowledge encryption. This way, only you and the people you share the key with will have access to the data. No third parties will be able to access your data. Not even the cloud provider. This is also why user-end encryption is better. Just a note: while you can use end-to-end encryption in the browser, it breaks the central promise of end-to-end encryption: protecting you from the server owner. The browser executes code from the server, so if you don't trust the server you can't trust its code to not send a copy of your data to an attacker! For the best protection, only use a sync client and try to avoid browsers. The options in this guide all have clients for Linux. Of course, if you can't see the code of the sync client (if it is not open source) then this doesn't really matter – maybe the supposed end-to-end encryption is using a Caesar cipher that can be hacked by a toddler with a phone.
You can encrypt the files yourself before you upload them to the cloud. This might be the safest and most secure option. You can use Cryptomator for this. Basically, encrypt the files yourself, then use whatever service you want to.
You can use Rclone to manage data from pretty much all cloud storage providers.
Another general tip is – if you can, self-host your data. Use Nextcloud and/or Cryptomator. You will have the most control over your data this way. You'll also have the most features, tools, extensions, integrations, etc. with Nextcloud. You won't be limited to some features based on the plan you're paying for. However, there's a learning curve for this. You'll need to know how to manage a server, how to secure the server, how to set up cloud software, pay for a server, etc.
Always keep backups. No cloud storage provider is super safe and reliable. Even if you host the data yourself – you still need to keep an extra copy of your data, especially if it's important. Don't rely on one copy of your data, ever.
Most of the cloud storage service providers offer a discount if you pay yearly, or if you get a lifetime account. You can also use a coupon or use some of their limited-time deals, especially during Black Friday.
So, here are the best cloud storage service providers for Linux:
pCloud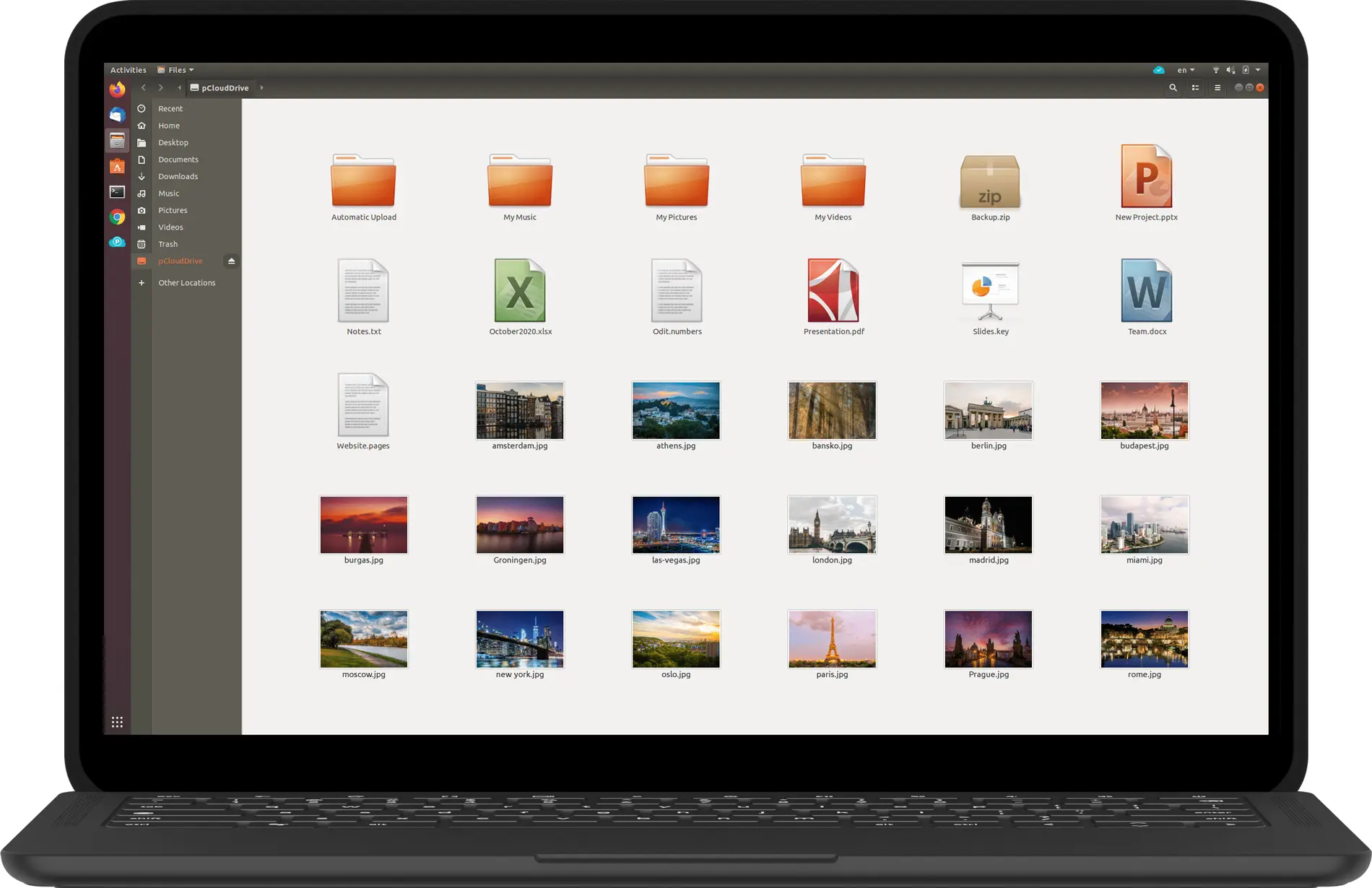 pCloud is a company based in Switzerland that focuses on security and privacy. They have an option to choose what server location you'd like to use – either a US (Dallas, Texax) or an EU (Luxembourg) one.
Features
Choose from US or EU servers
Native Linux apps
Based in Switzerland
End-to-end encryption
Unlimited file size
Unlimited upload/download speeds
Both encrypted and non-encrypted folders in the same account
and all other standard features in cloud storage service providers
Pros
10 GB free space
Great native Linux client
Unlimited size and speed
Cons
The free plan has limited features and you have to unlock the full 10 GB of free space
Pricing
Free plan: 10 GB of data
Paid plans: starting from $4.99/month for 500 GB storage
There's a reason why pCloud is one of the top recommendations any time you ask a Linux user. Just try them out.
Nextcloud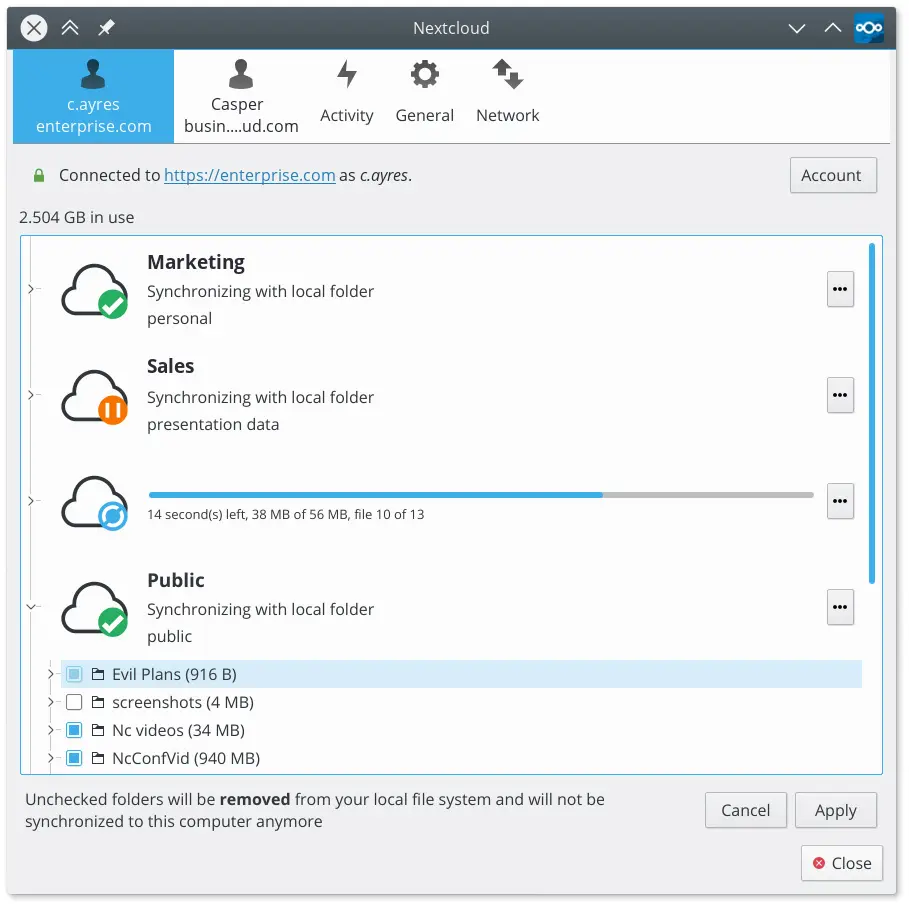 Nextcloud is one of the most popular FOSS cloud storage options for Linux. It offers a self-hosted version as well as a hosted version. Most Linux users prefer the self-hosted version for home use. It's a complete collaboration platform similar to the Google Suite and MS Office Suite. You can share files, edit documents, do video/audio conferences, integrate Calendar/Contacts, etc.
Features
Can be self-hosted
Native Linux apps
Free and open-source
Unlimited in every way when self-hosted
Video/audio conferences
Text chat
Calendar, Contacts, Mail
Has an online office suite
Has plugins that you can use to extend features
Cross-platform support
and all other standard features in cloud storage service providers
Pros
FOSS
A true alternative to the whole Google Suite, not just Google Drive
Great collaboration features
Extensible through a large collection of plugins/add-ons
You have control over your own data and how everything works
Great cross-platform support
Cons
You have to host it yourself, so you'll need to buy a server. There are providers like The Good Cloud and Hetzner that offer hosted, cloud options with Nextcloud.
You'll have to install, configure, and maintain the server yourself
No professional support if you host it yourself. They only offer professional support for large enterprises (>100 users).
Not recommended for beginners to host their own Nextcloud server
Pricing
It's free. The only cost is the server you need to host it on.
Nextcloud is a great option if you already have a VPS or a server at home and you know what you're doing.
MEGA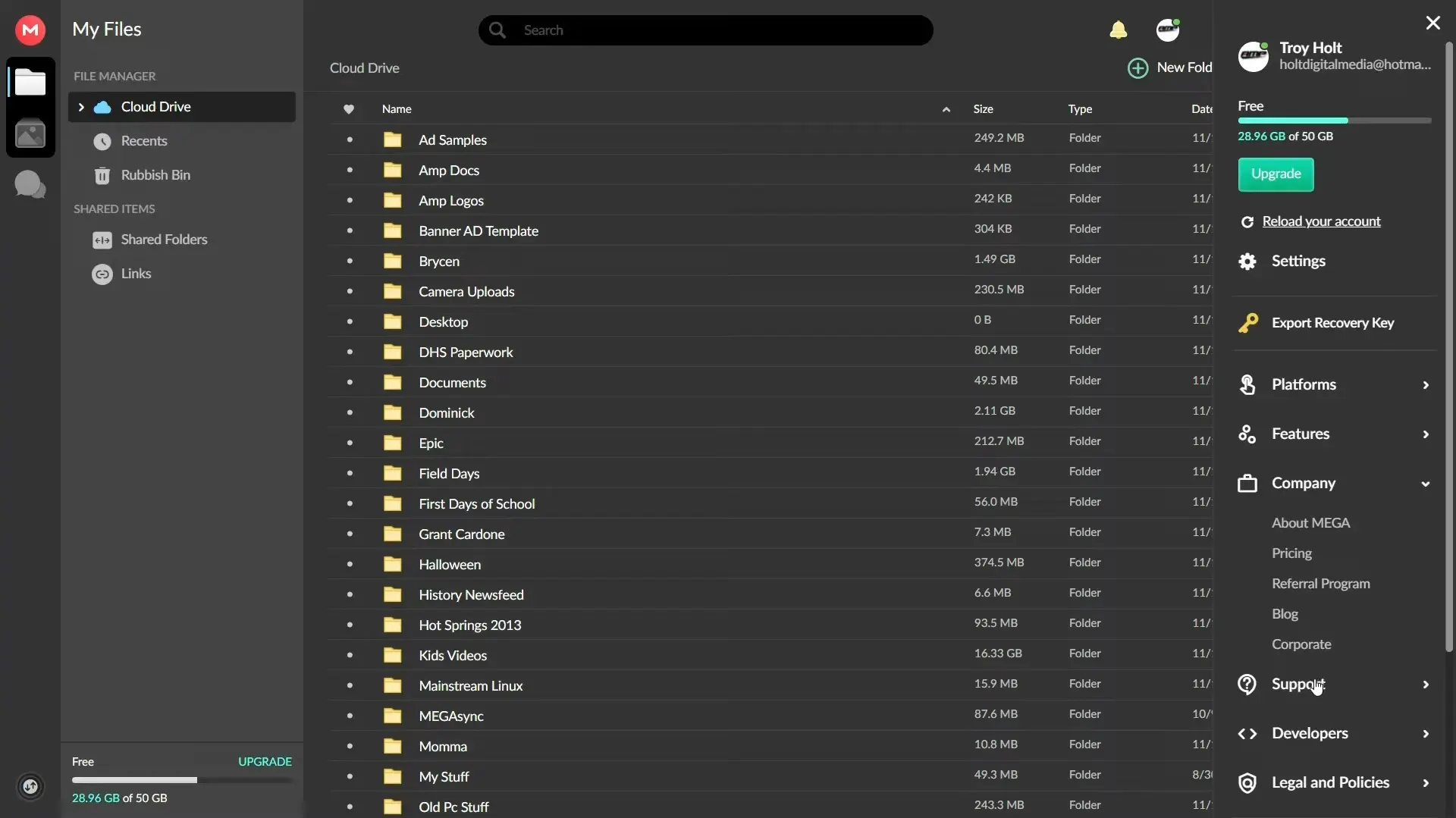 MEGA is another popular cloud storage provider among Linux users. It has great native Linux clients and has lots of positive reviews from the Linux community.
Features
File storage
(Group) Chat features
Audio/Video calls
Zero-knowledge encryption, only the sender and receiver have access to the data
Cross-platform support
Native Linux app, including a CMD app
Pros
Great native Linux apps (GUI and CMD)
20 GB free storage
End-to-end encryption
Cons
The free plan has limited bandwidth/quota
Pricing
Free plan: 20 GB of data
Paid plans: starting from €9.99 for 2 TB storage
MEGA is a great option for Linux users considering their great native Linux apps.
Koofr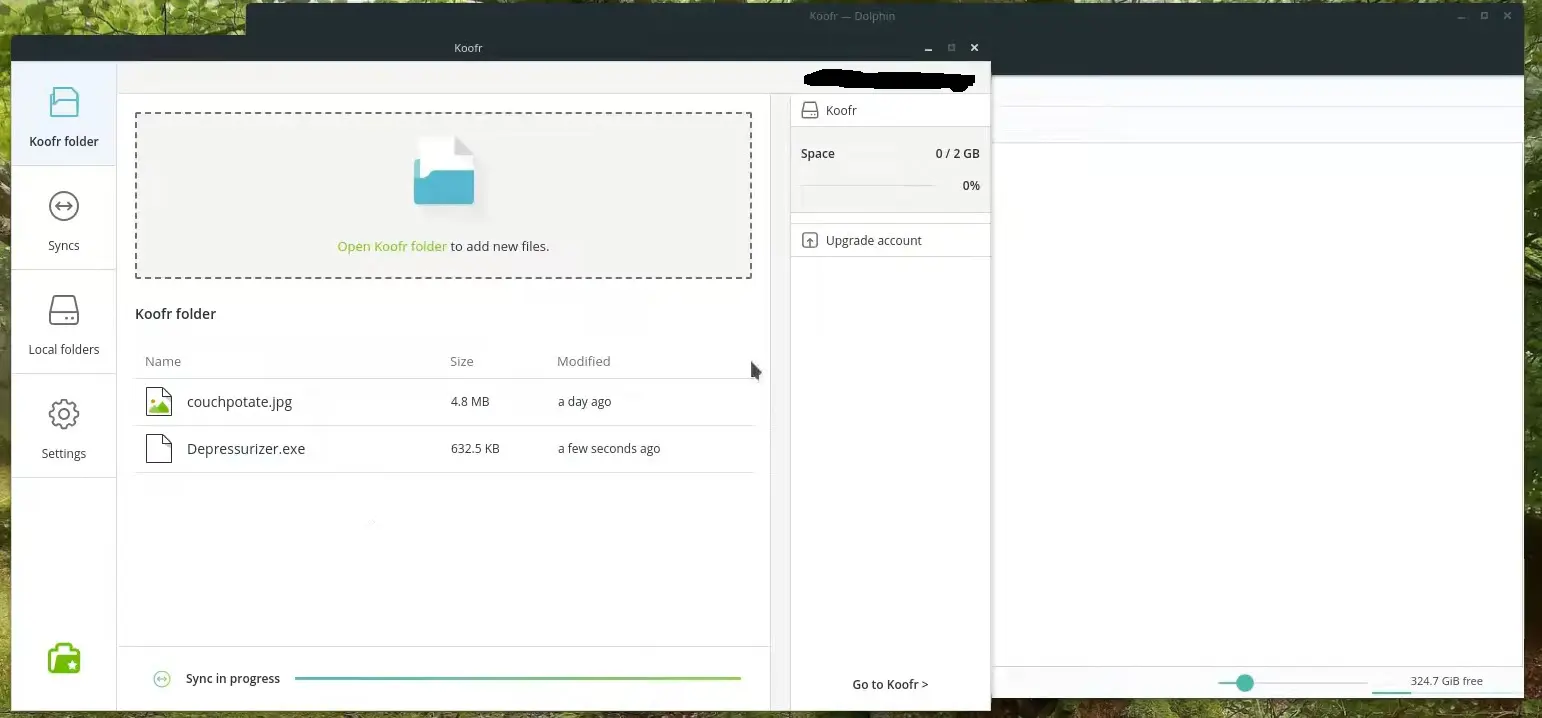 Koofr is a cloud storage provider that's a good option for Linux because of its Linux GUI desktop client. They have an online version, desktop and mobile versions, browser extensions, and more. The best thing about Koofr is that you can connect Google Drive, Dropbox, and OneDrive to your Koofr account and search through all files from all accounts from Koofr.
Features
Connects with Google Drive, Dropbox, OneDrive – you can search through all your files across all services from Koofr
GUI desktop client for Linux
File versioning
Easy sharing options
Unlimited file size
Automatic mobile media backup
Facebook media transfer tool
You can create and edit Microsoft Office documents with Koofr because of its Office 365 integration
Save to Koofr browser extension
Koofr EXP – duplicate file finder, space usage and PDF tool
Image Editor
Pros
The ability to search through files from multiple cloud storage services
Good GUI desktop client for Linux
Transfer your Facebook media to Koofr
Affordable pricing
Has zero-knowledge, client-side encryption with Koofr Vault.
Cons
The free plan is somewhat limited – up to 2 external cloud connections and a 50 GB daily public sharing transfer limit. Most of the "fancy" features are not available in the free plan
No block-level sync
Pricing
Free plan: 10 GB of free data
Paid plans: starting from 0.5 EUR/month for 20 GB data
Use coupon code "LINUXSTANS" to get a 20% discount on the first purchase of any of these plans: 100GB, 250GB, 1TB, 2.5TB
Icedrive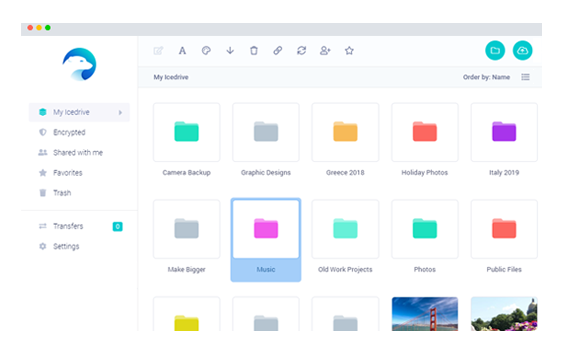 Icedrive is a cloud storage provider that offers zero-knowledge encryption. It has a great portable Linux desktop client app.
Features
Uses Twofish encryption
Zero-knowledge protocol
Data gets encrypted client side
Some collaboration options: public and user-to-user sharing, allowing others to upload to your shared folders, commenting on shares.
File version control
Pros
Great mobile apps, and a portable desktop app for Linux
Zero-knowledge encryption
Some collaboration features (like comments)
Lifetime plans
Unlimited file size and file count
Both encrypted and non-encrypted folders in the same account
Cons
Client-side encryption is only available on the paid accounts, not the free accounts
Not open source
Pricing
Free plans: 10 GB storage
Paid plans: starting at $4.99/month for 1 TB storage
Dropbox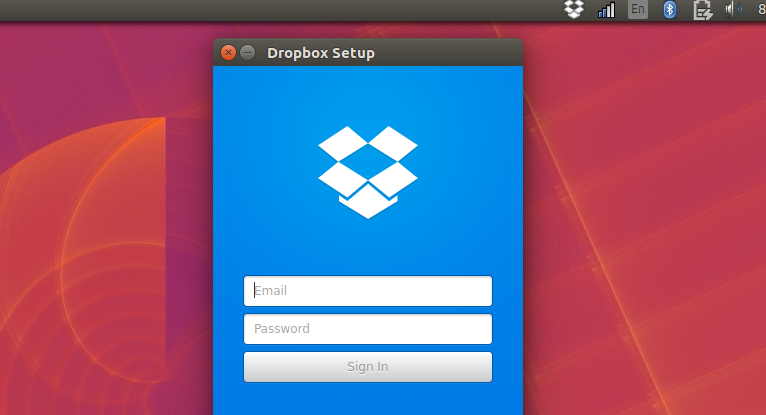 Dropbox is a popular cloud storage provider that pretty much everyone has heard of or used. They have multiple Linux apps to choose from, even a headless app.
Features
Multiple Linux apps, including a headless app
The most popular cloud storage provider
Collaboration options
Connect tools like Slack, Zoom, and other integrations
Pros
Great client apps
Great collaboration features
Great integrations
File version control
Cons
The privacy and security options
Being the most popular also means that it's often targeted by attackers
Pricing
Free plans: starting at 2 GB of data. Can be more if you invite people
Paid plans: $11.99 / month for 2 TB storage
Cozy Cloud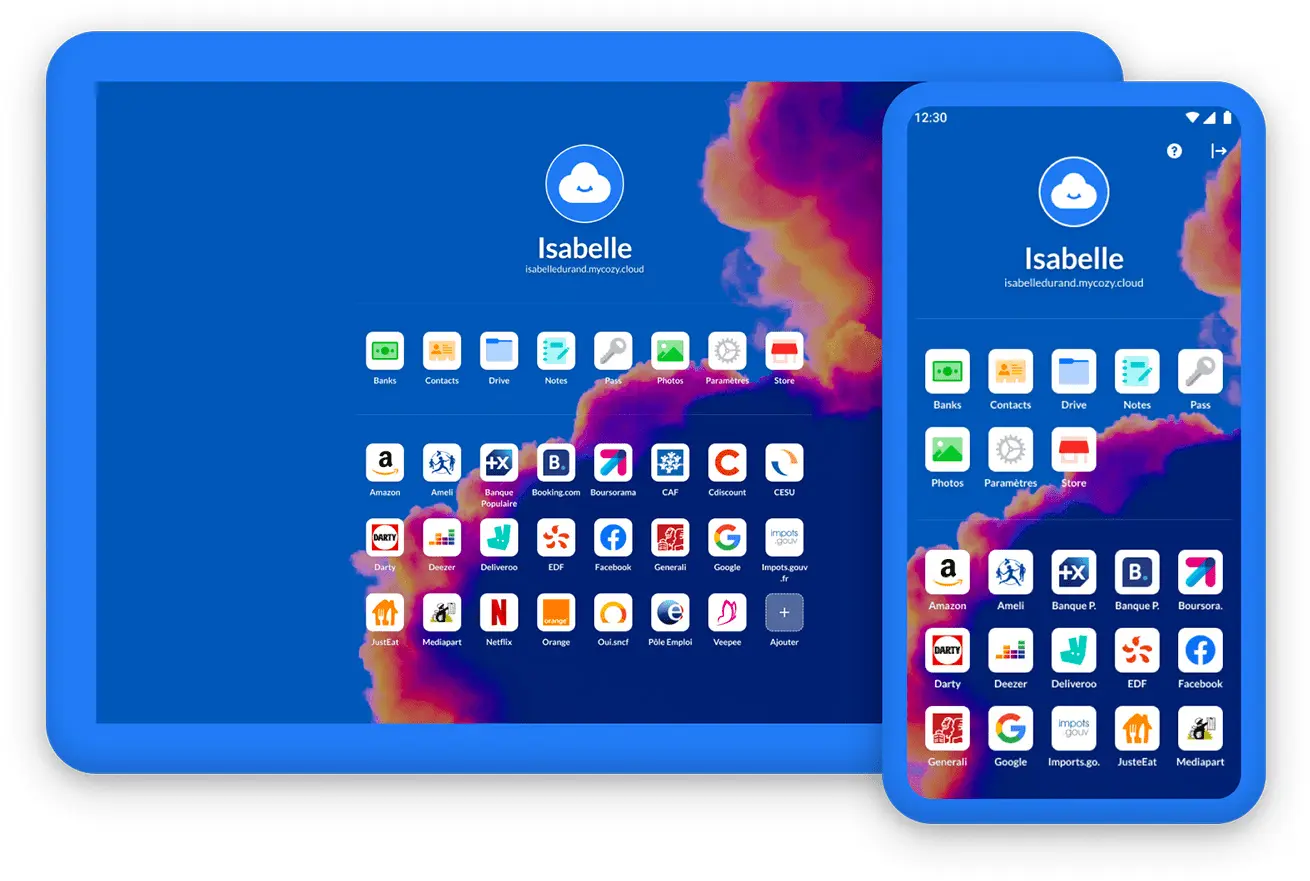 Cozy Cloud is a fully-featured cloud system that you can use to store data, save and sync passwords, do personal banking, and more. It's available in 2 options: self-hosted (FOSS) and hosted. It has tons of positive reviews online and they have a decent Linux GUI client.
Features
You can use their service, or you can host it yourself
It has a feature that automatically scans tax, banking, billing, and other documents and saves them in the cloud. Works best for French people and French services
It has a password manager, notes app, photos app, and more
Pros
A feature-rich cloud service option
Great for managing paperwork (for French people)
Cons
The self-hosted version is more difficult to set up and install (at least as compared to Nextcloud)
It's focused on French people, so residents of other countries may not find the other features as useful
Pricing
Free plan: 5 GB of free data
Paid plans: starting from 2.99 EUR/month for 50 GB data
Tresorit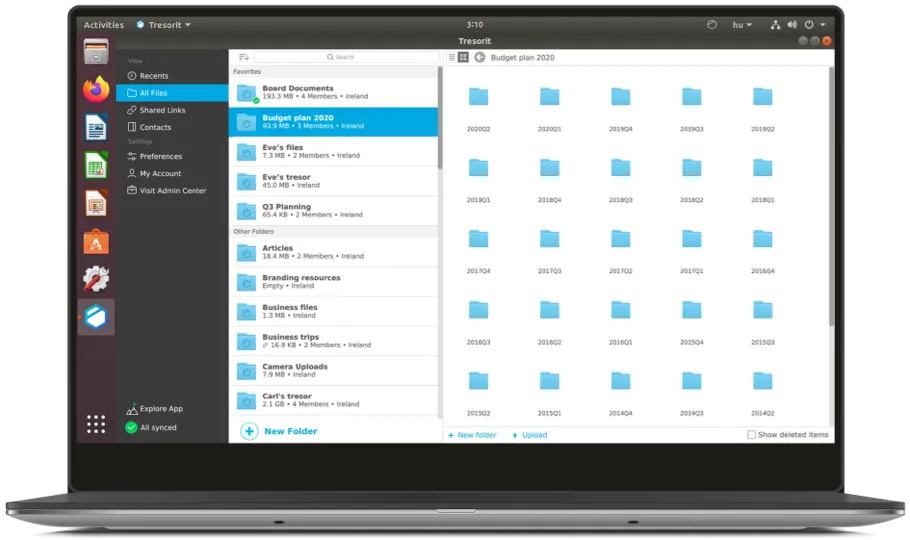 Tresorit is a Swiss cloud storage provider that focuses on business. The main useful feature, aside from the dedicated Linux client, is their end-to-end file encryption. Nobody, besides you and the people you send the keys to, will have access to your data, not even Tresorit.
Features
End-to-end encryption
Zero-knowledge protocol
Linux desktop client
Unlimited file versioning
Pros
The end-to-end encryption and zero-knowledge protocol make it one of the best options if you value privacy
Nobody (beside you and who you choose) can access the data, not even Tresorit
Cons
No live, in-app collaboration options
It's just cloud storage, it doesn't have all the other collaboration features like the Google Suite or Nextcloud
Does not support block-level sync
Pricing
Free plans: They don't have a free plan. They do have a 14-day free trial.
Paid plans: starting at $13.99 per month for 1 TB data.
Filen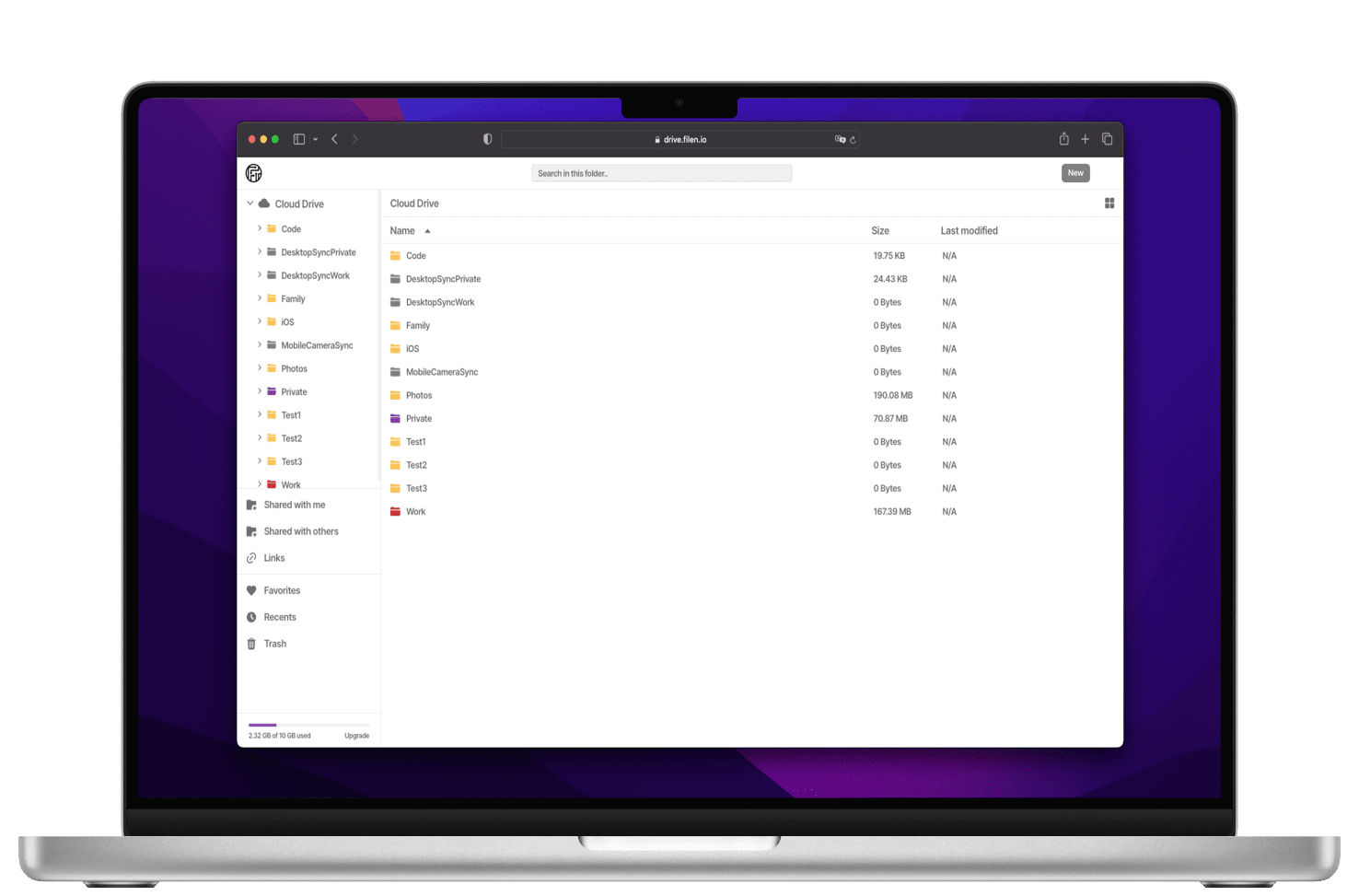 Filen is another great option for cloud storage on Linux. They have end-to-end encryption and a zero-knowledge policy. They are relatively cheap and have a free option. It's a great option if you're just looking for secure, encrypted, cheap cloud storage without all the extra bells and whistles.
Features
End-to-end encryption
Zero-knowledge protocol
Linux desktop client app, web apps, and more
Automatic camera uploads
Unlimited file versioning, file sizing, and more
Pros
End-to-end encryption – nobody else has access to your data, not even Filen
Unlimited download and upload speeds
Affordable, cheap
Has lifetime plans
Cons
No collaboration features
Not as feature-rich
Pricing
Free plans: 10 GB data
Paid plans: starting at 1.99€ per month for 200 GB data
Internxt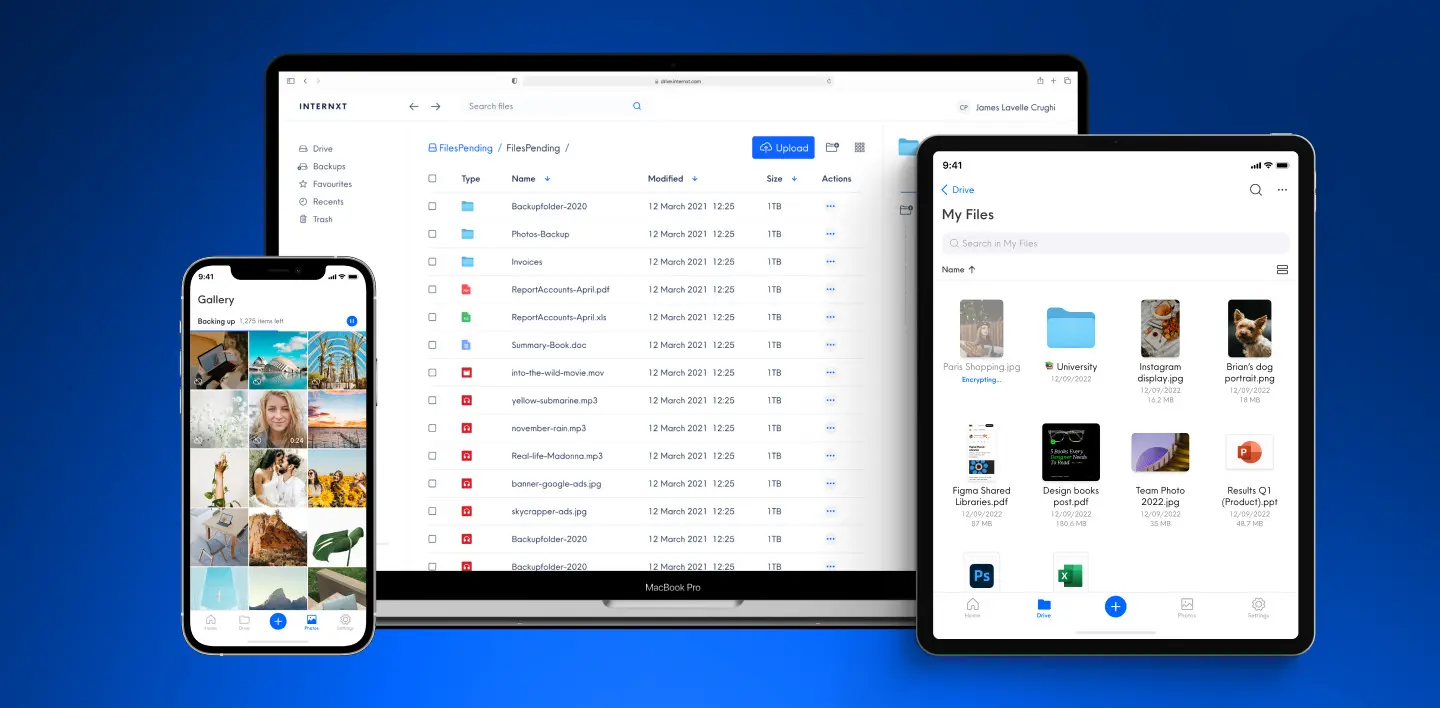 Internxt is another privacy-focused cloud storage (open source) provider that has zero-knowledge encryption and a good Linux client app. They have extra services/features like Internxt Photos and Internxt Send.
Features
Zero-knowledge AES-256 encryption
Password protection for links
Open source
Linux desktop app
Pros
No speed limits
Unlimited bandwidth
Lifetime plans
Cons
No file versioning
No block-level sync
Pricing
Free plans: 10 GB storage. The starting free storage is 2 GB. You'll have to do stuff to unlock the full 10 GB
Paid plans: starting at $1.49 per month for 20 GB storage
Use code 80ANNUAL to get an 80% discount on all yearly subscription plans
Others
That's pretty much it for the apps and services we've tried and tested. Do you have any suggestions that should be included here? Leave a comment below. Make sure they have a decent Linux app and/or they are privacy-focused.