A wise man once said that when a relationship gets old, you don't throw it away. Instead, you fix it and learn to navigate that relationship in a new way.
The same can be said about the relationships we have with our technology. If you have an old laptop lying around, don't throw it away just yet; it can be revitalized and put to good use. All you need to do is find a lightweight Linux distribution that's compatible with your device's hardware and you'll be all set. All these lightweight distros are a far better choice than Windows or macOS for old hardware. They're even better than the most popular options like Ubuntu.
With that in mind, here are a few lightweight Linux distros that can bring your old laptop back to life.
Shopping for a new Linux laptop? Check out Star Labs and Purism.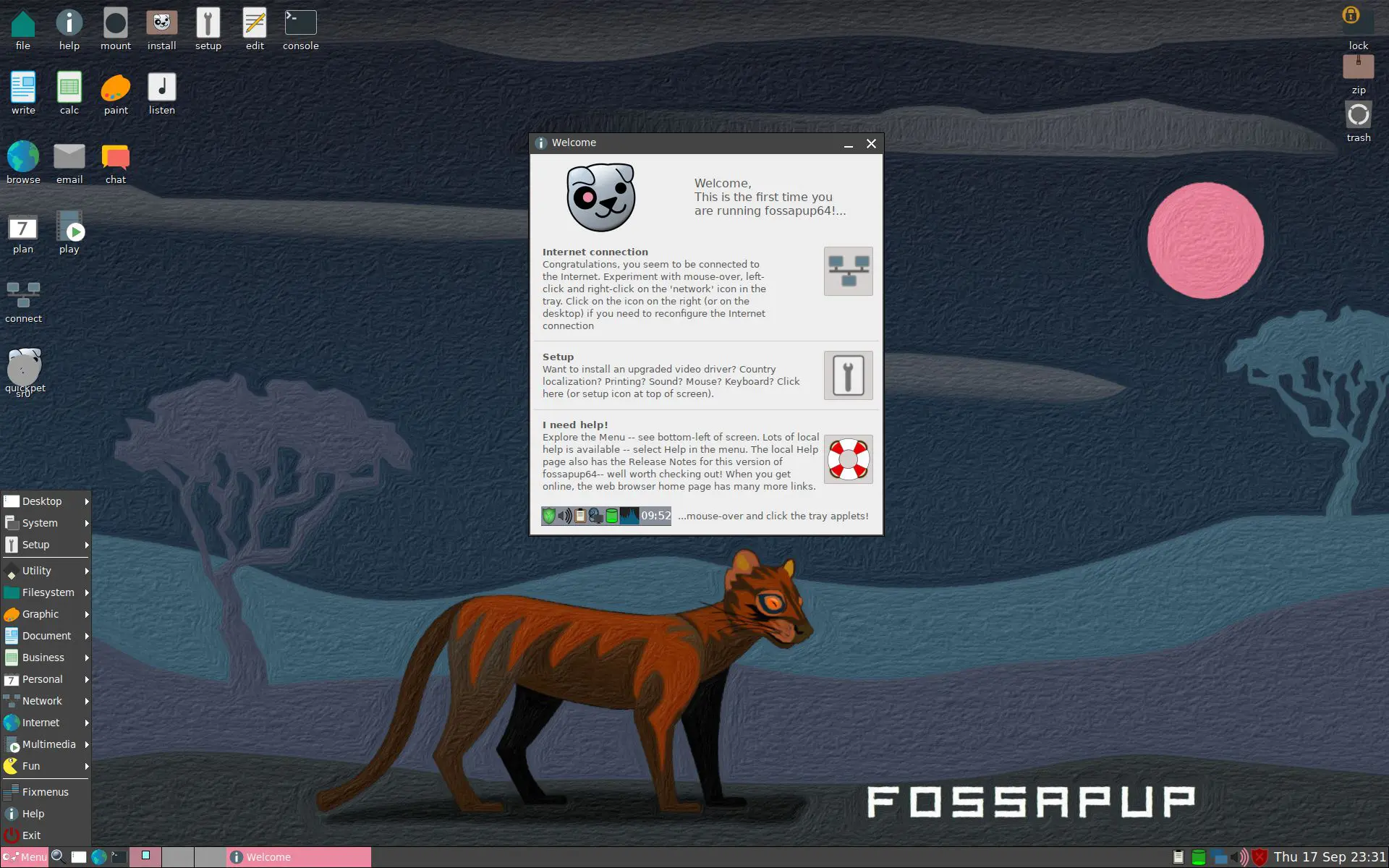 Puppy Linux was originally created by Barry Kauler in 2003 and has since been known to be an extremely lightweight option available for the home user.
Unlike some other Linux distributions, Puppy Linux isn't based solely on one distribution. Rather, it's a family of "puppies" or Linux 'flavors' that you can choose from.
Some of those download options are based on:
Slackware
Debian
Ubuntu
Puppy Linux System Requirements:
RAM
Disk Space
CPU
300 MB and upwards.

(512 MB RAM recommended).

512 MB of disk space.

(Not a requirement if you're live-booting off of a USB).

Personal recommendation is at least 25 GB if you want to use various different applications on it.

A minimum requirement of any processor with 1GHz speed.
Puppy Linux Review
Puppy Linux is a fast, stable, and customizable no-frills operating system that, by default, has removed the clutter and unnecessary resource-bloat like animations or fancy software that require beefier hardware than what you would probably use Puppy Linux for, in the first place. To me, it's (sort of) akin to Windows XP in its simplicity and effectiveness.
Pros
Cons

ISO file size is only about 300 MB, making it extremely portable.

Great for note-taking, web browsing, and for watching YouTube videos.

Snappy, responsive, and can very easily be modified to fit your use-cases.

Very simplistic, making it a great option for beginners and new users; this poses great opportunities to teach young children or elderly adults computing through the power of Linux.

32-bit architecture compatibility means a wider variety of (especially old) hardware support and a faster user experience overall.

The installation process isn't as streamlined or as seamless as Ubuntu or its derivatives; you've got to use GParted to create your own partition on which you want to install the OS. This is fine for familiar users but can be tricky for newcomers.

While beauty is in the eye of the beholder, Puppy Linux doesn't really look like what you'd expect a modern operating system to look, feel, and act like; it feels a bit outdated and contains within it quite a smaller library of software.

While the system requirements are few, modern web browsing makes Puppy Linux not as lightweight as it used to be, but that's not exactly something any one distro can control. You'll invariably run into some sort of qualm when running older hardware in the days of modern tech.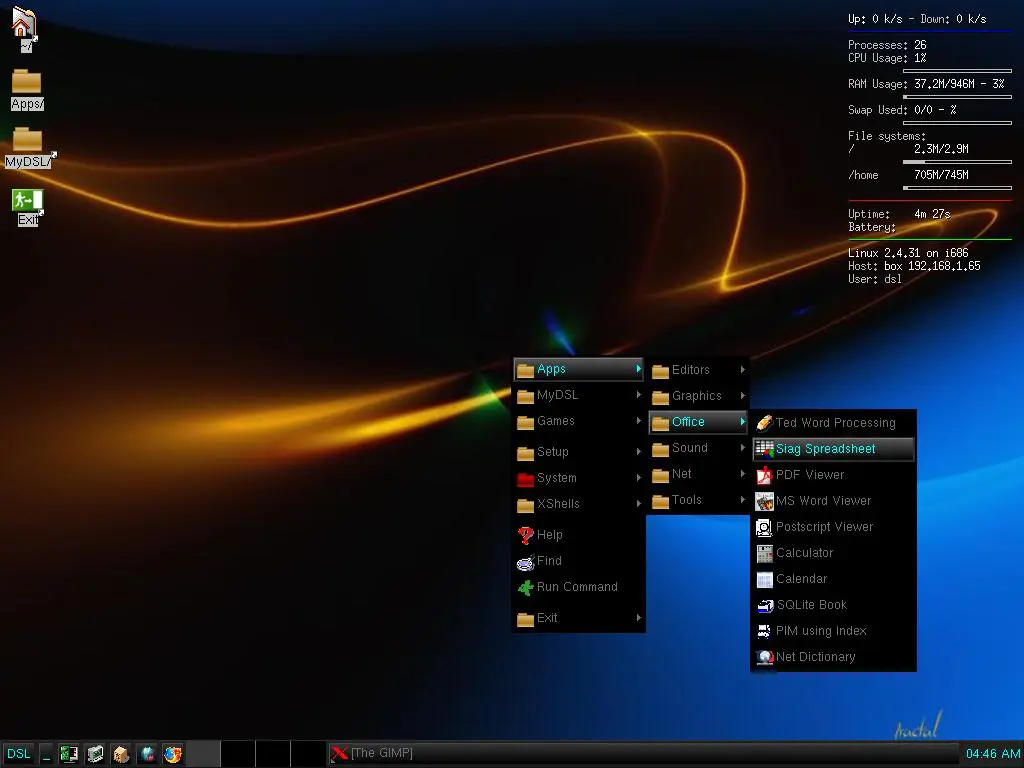 Damn Small Linux is one of the world's smallest operating systems; it's so small, in fact, that it can run entirely on your RAM, so you don't even need a hard disk drive.
Damn Small Linux System Requirements
RAM
Disk Space
CPU
8 MB of RAM
64 MB.

Personal recommendation is at least 25 GB if you want to use various different applications on it.

x86 PCs

486 processor.
Damn Small Linux Review
DSL is basically the epitome of a certain philosophy I have about technology. Devices, software, and all that goodness are supposed to work for me and adapt to my workflow, not the other way around. I can't say too much about DSL because it's quite simple. Point, click, accomplish. It is beneficial because it is able to run on old hardware, but it also does a pretty good job (from my relatively minimal experience) at adapting to newer hardware as well. I used it for about three weeks back in college when I was a web development student, and it ran fine on my modified Chromebook that housed only 2 gigs of RAM.
Pros
Cons

Its utilization of Fluxbox and JWM make the OS extremely snappy and simple to navigate.

Implements only the fundamental nature of an OS and the tools you'd need to get a task done.

Don't expect 100% hardware support right off the bat; you'll likely need to do some configuration and connect to the web using Ethernet.

Outdated UI. Its simplicity makes it more functional for older hardware, but that's it, its focus isn't on the design or UX.

Limited software support.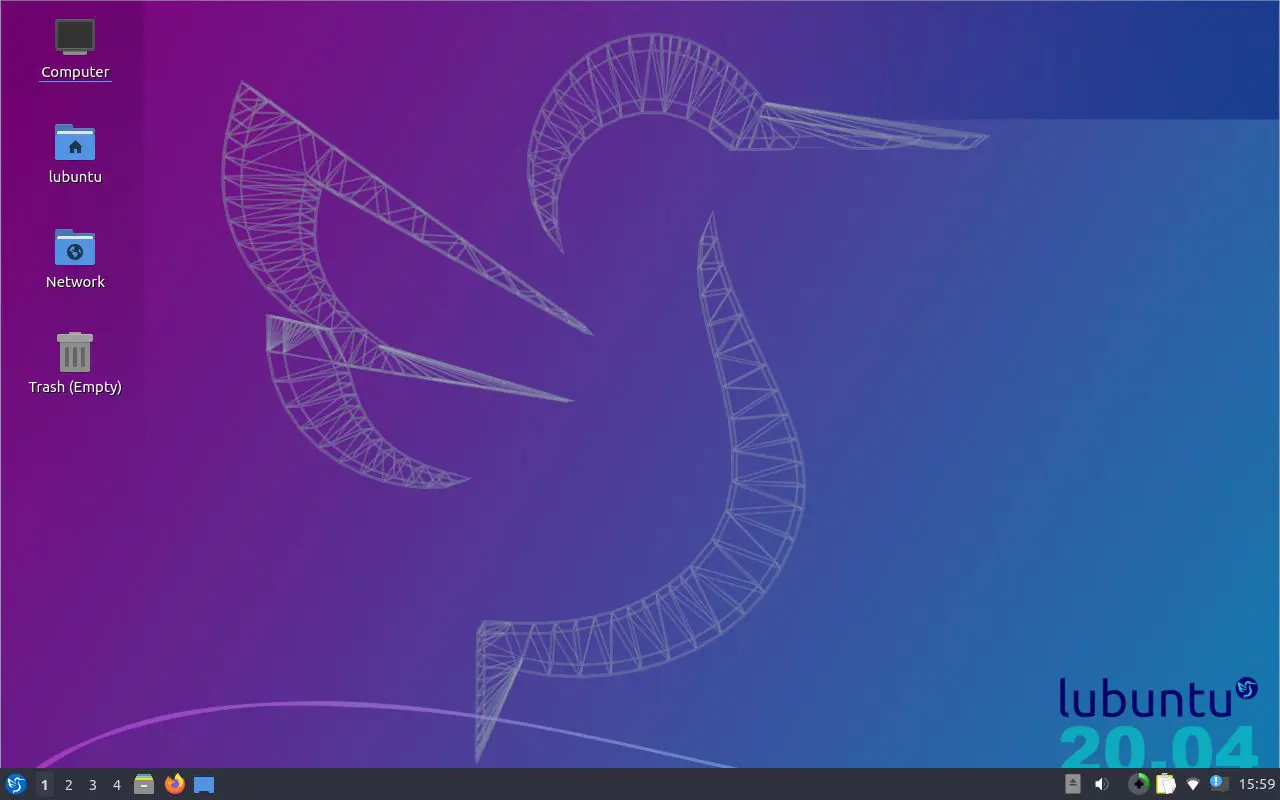 Lubuntu is a lightweight derivative of Ubuntu, running the LXQt desktop environment, making it ideal for all sorts of hardware, old or new.
Lubuntu System Requirements:
RAM
Disk Space
CPU
512 MB.
8 GB.

Personal recommendation is at least 25 GB if you want to run various different applications on it.

1GHz processor.
Lubuntu Review
If you're an Ubuntu user, this might be the best fit for you.
Pros
Cons

Comes with two editions; LTS and the latest release with the newest features.

The more modern option for a lightweight distribution.

Other than hardware compatibility issues that you may face with lower-end devices, I didn't experience any unusual issues or drawbacks when using Lubuntu.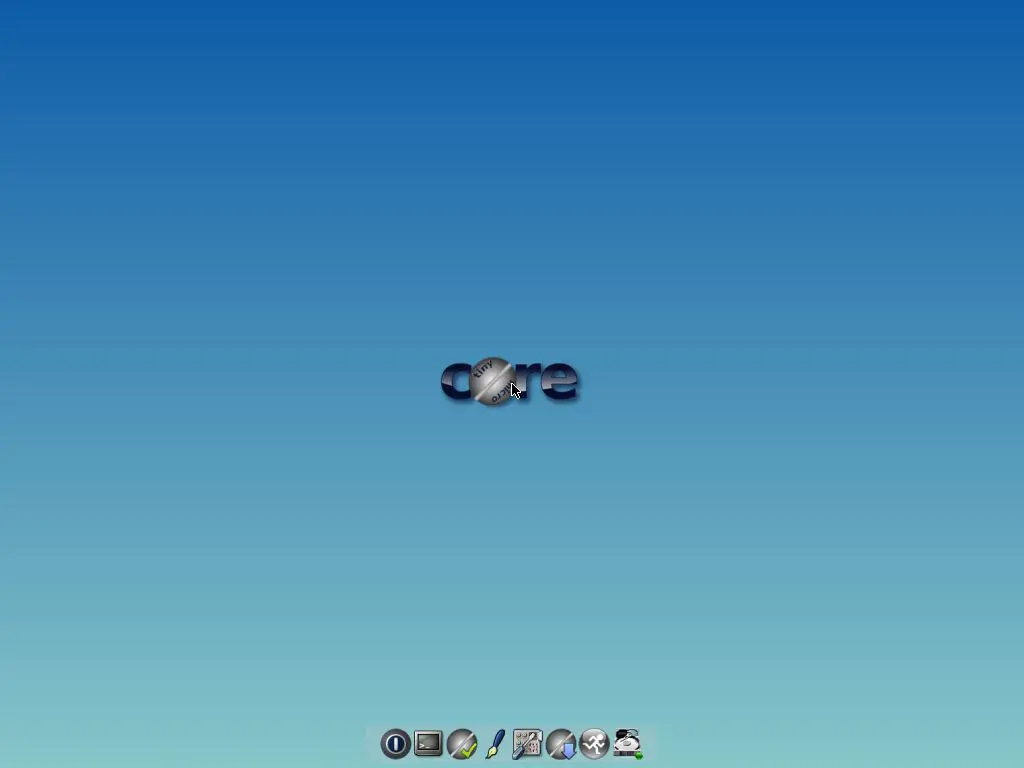 Tiny Core Linux is yet another great lightweight Linux distribution for old laptops. It was created by Robert Shingledecker, who was the former lead developer for Damn Small Linux. It is seen as the alternative option to DSL, given that Damn Small Linux is no longer in development. (Note that while the DSL is a project no more, you can still download the ISO file and use it quite functionally).
RAM
Disk Space
CPU
46 MB.
Can run entirely on RAM.

Personal recommendation is at least 25 GB if you want to run various different applications on it.

i486DX
Tiny Core Linux Review
Although I have never specifically used Tiny Core, I don't imagine that it would be very different from all the lightweight variants above.
Pros
Cons

Great for basic usage; web browsing reading articles, note-taking, and watching YouTube videos.

Very little hardware resource consumption; this ultimately means you'll have a faster user experience without additional load times or system buffering.

Not great if you want a "full" computing experience; lack of hardware support.

Many broken dependencies when trying to install additional applications.

You may experience DRM issues when attempting to stream from Netflix, Amazon Prime, or YouTube Movies & Shows. You may be able to fix it, but limited support might hinder your ability to resolve the issue, depending on your hardware.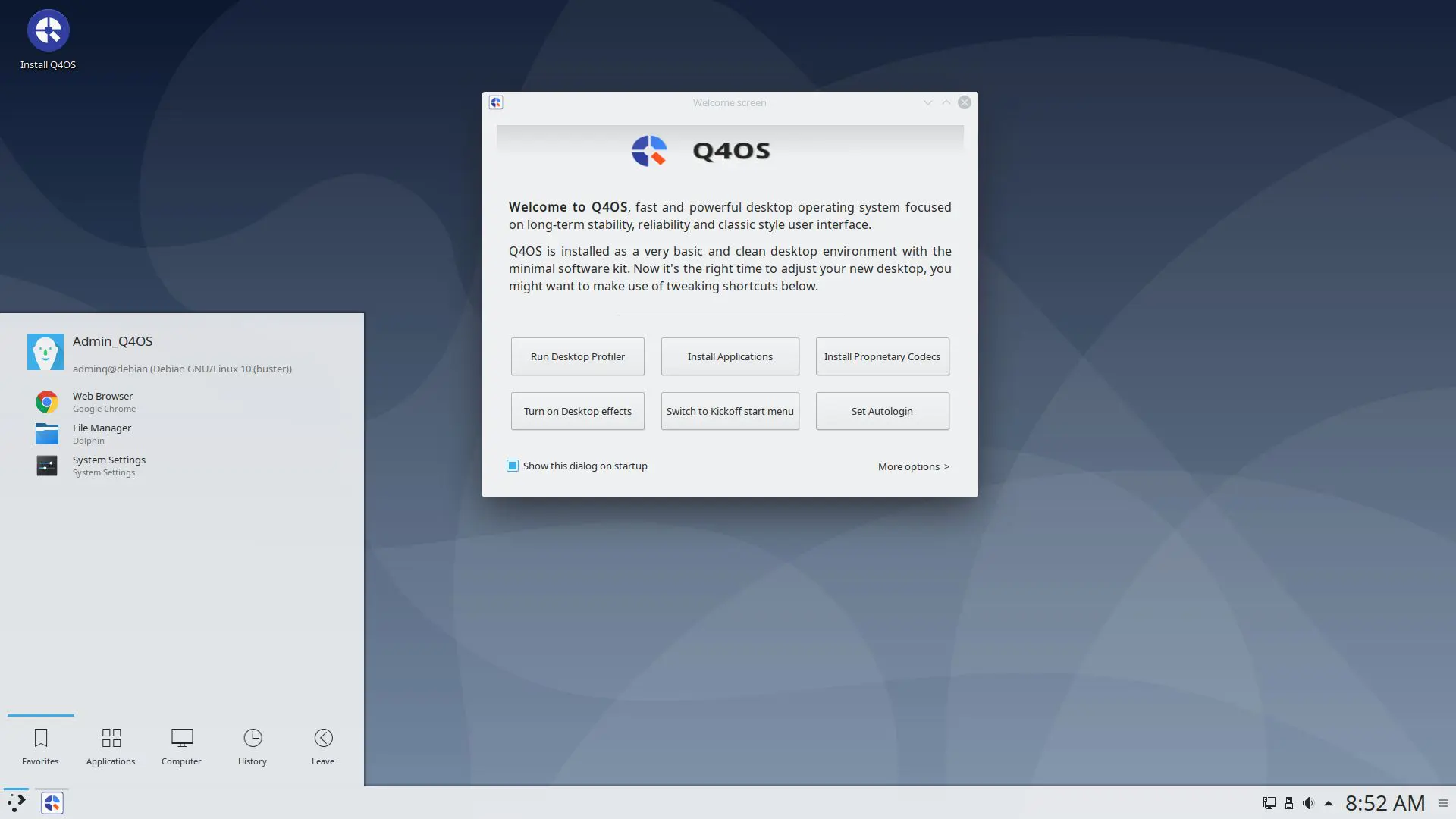 Q4OS is a beginner-friendly, user-friendly, no-frills operating system based on Debian. It supports both 64-bit and 32-bit processors.
Q4OS System Requirements:
RAM
Disk Space
CPU
128 MB (if you use the Trinity Desktop Environment).

1 GB (if you use the Plasma Desktop Environment).

3 GB.

5 GB.

Personally, I recommend at least 25 GB.

300MHz or better.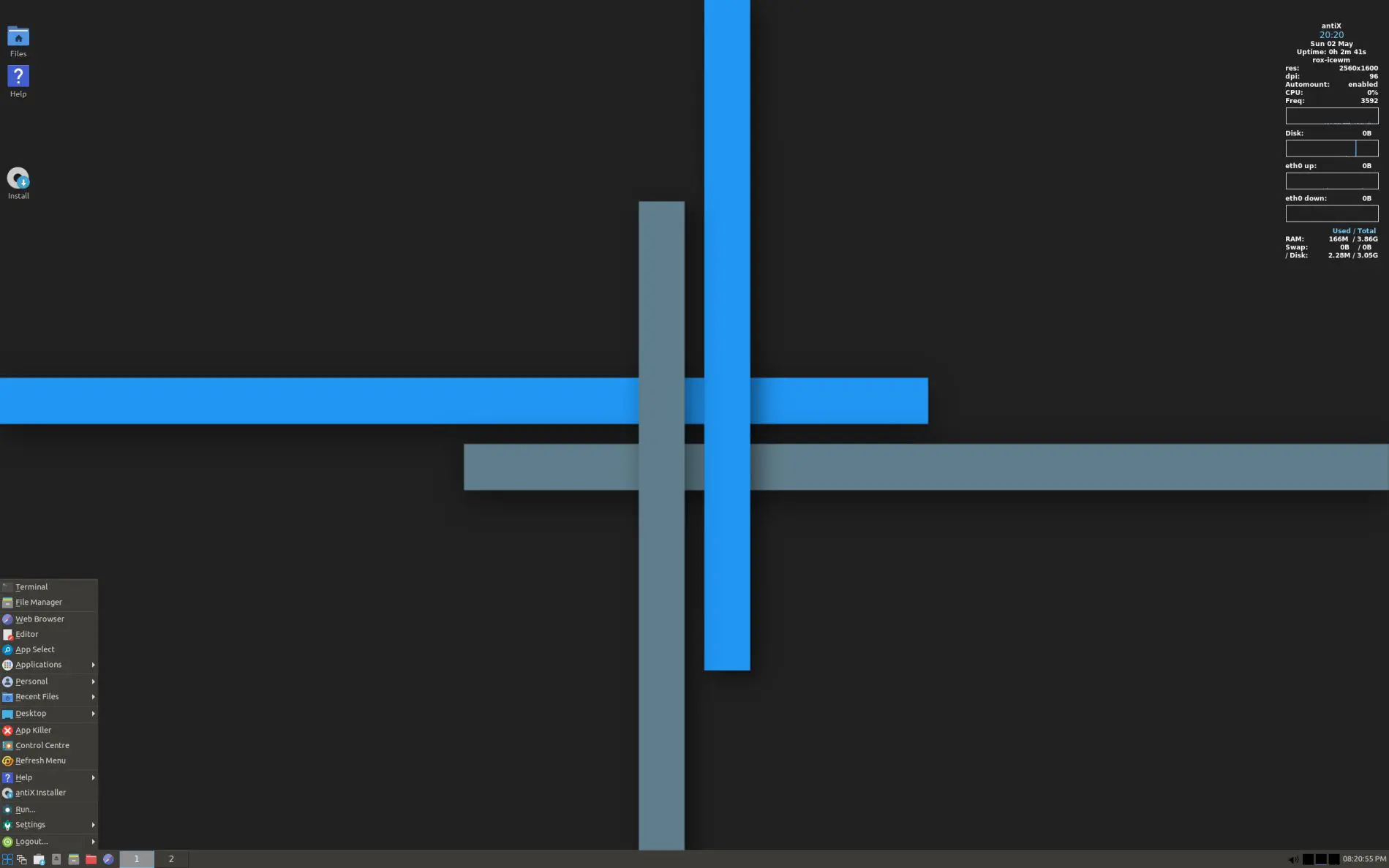 antiX is a Debian-based Linux distribution that rocks the IceWM Window Manager in conjunction with the ROX Desktop Environment. Its slogan, "Proudly anti-fascist "antiX Magic" in an environment suitable for old and new computers" speaks volumes. It not only supports old hardware but was built with it in mind.
RAM
Disk Space
CPU
256 MB.
3-5 GB.

25 GB is ideal if you will be using and installing additional applications.

i386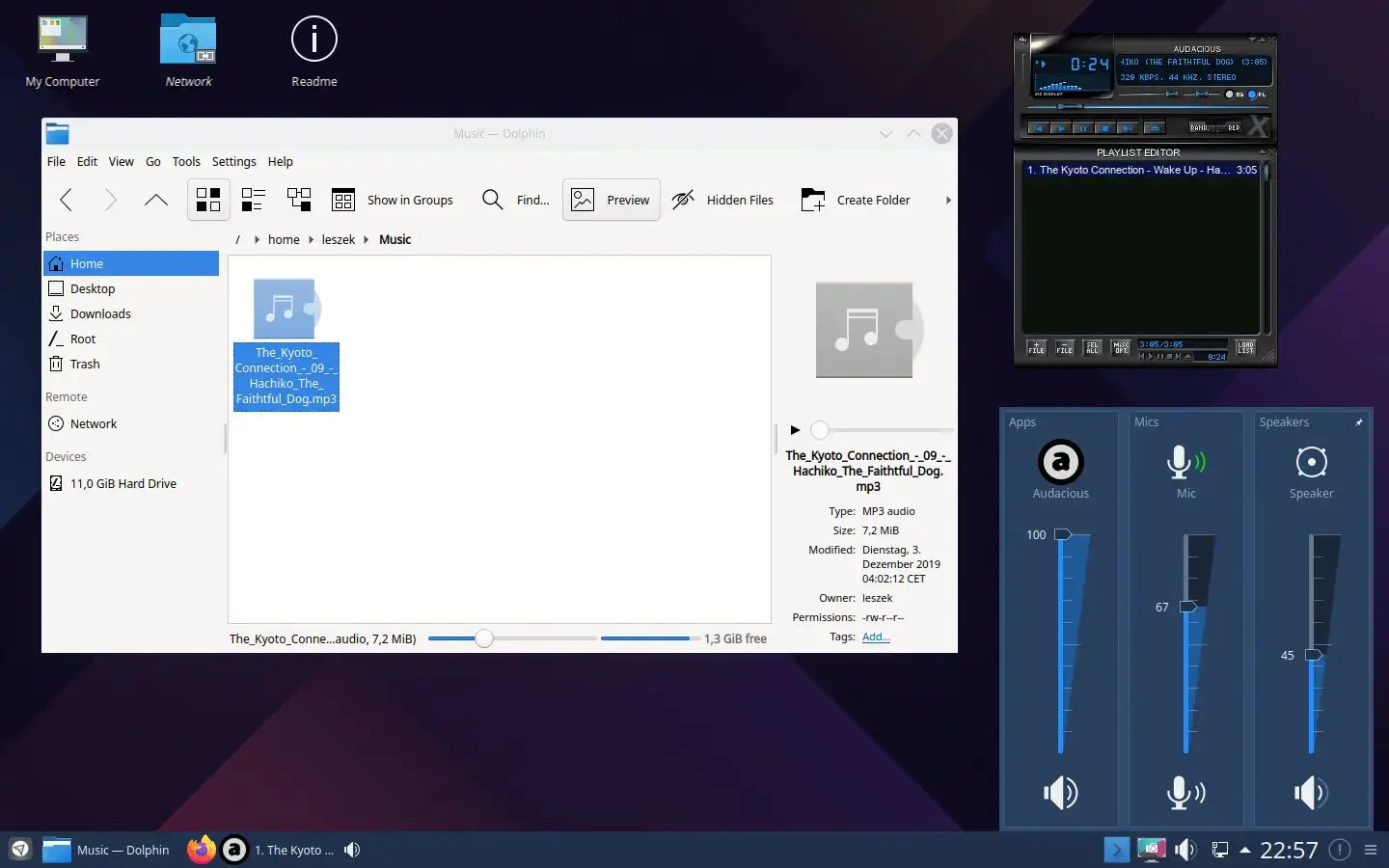 NetRunner is a unique Debian-based Linux distribution that has two versions:
ARM: only requiring about 400 MB of RAM, this edition of NetRunner is great for lower-end machines.
Core: the regular edition geared towards mid-to-high-end devices.
NetRunner was created by Blue Systems and rocks the KDE  Plasma Desktop Environment.
NetRunner System Requirements:
RAM
Disk Space
CPU
Uses 400-500 MB, R.A. Memory, but 1 GB is the minimum requirement for NetRunner ARM.

4 GB+ is ideal for the regular version.

15 GB
1.6-GHz Intel Atom
NetRunner Review
This was actually one of my favorite Linux distros. I used it on my Acer Aspire E15. What I enjoyed about it most were its beauty and stability. Similar to how Apple users view Mac, it just works. NetRunner is one of those distros where it doesn't come with too much or too little, but whatever it does come with, it integrates really well with your machine so you won't encounter too many bugs (I encountered none) in comparison to some of your alternatives. While it's not very different in the context of visual appeal, its core functionality is strengthened.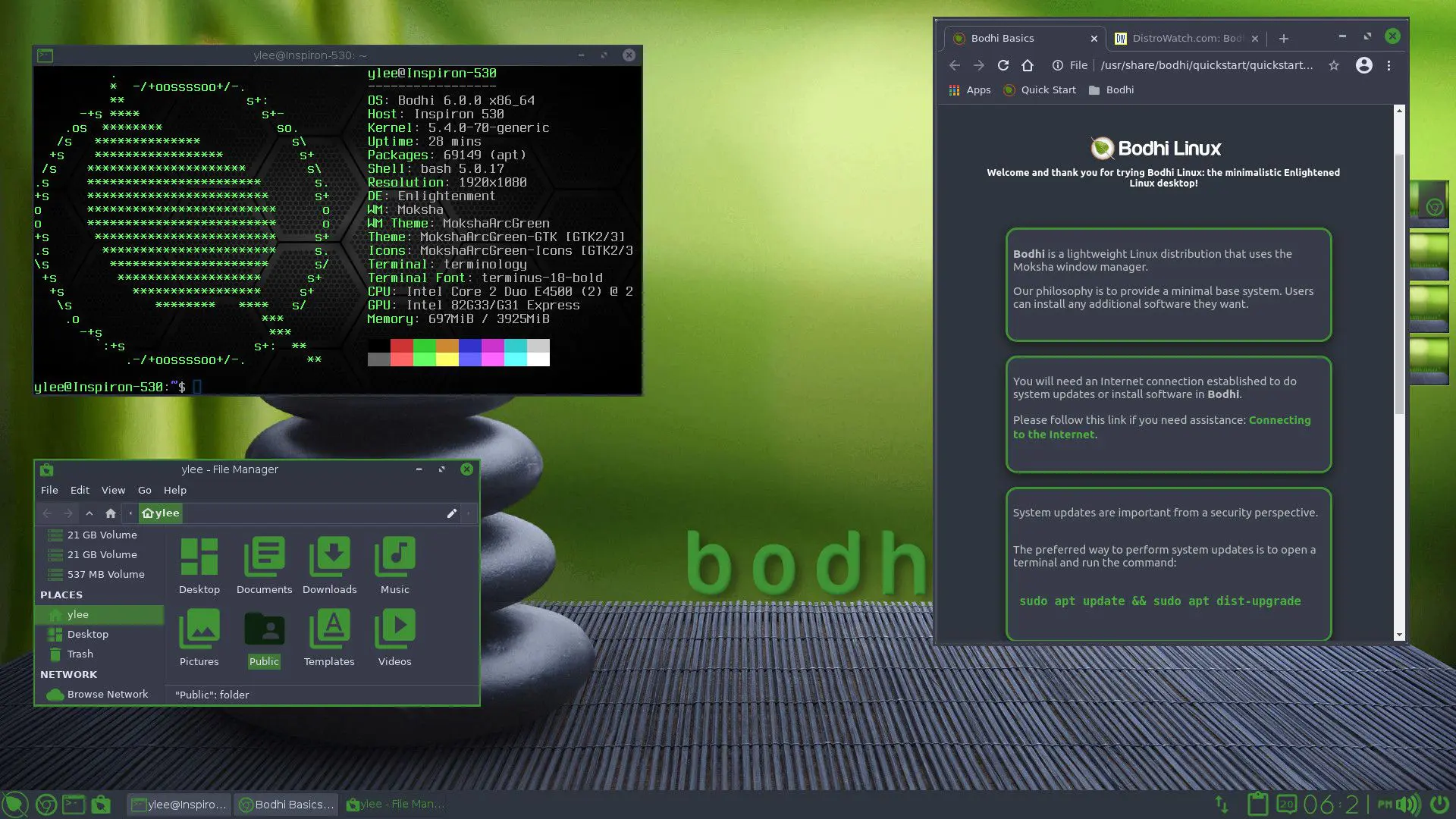 Bodhi Linux is an open-source lightweight Linux distribution based on Ubuntu (20.04). It is unique in that it is built by contributors rather than a set team of developers.
Bodhi Linux uniquely rocks the Moksha desktop environment.
Bodhi Linux System Requirements:
| | | |
| --- | --- | --- |
| RAM | Disk Space | CPU |
| 512 MB. | 5 GB. | 500MHz. |
Bodhi Linux Review
Similar to NetRunner, my experience with this distro, although short-lived, was 'it just works.' It's also quite aesthetically pleasing (to me). I love the whole "hacker theme" it has going on, what with the terminal color scheme (black, green, a bit of white).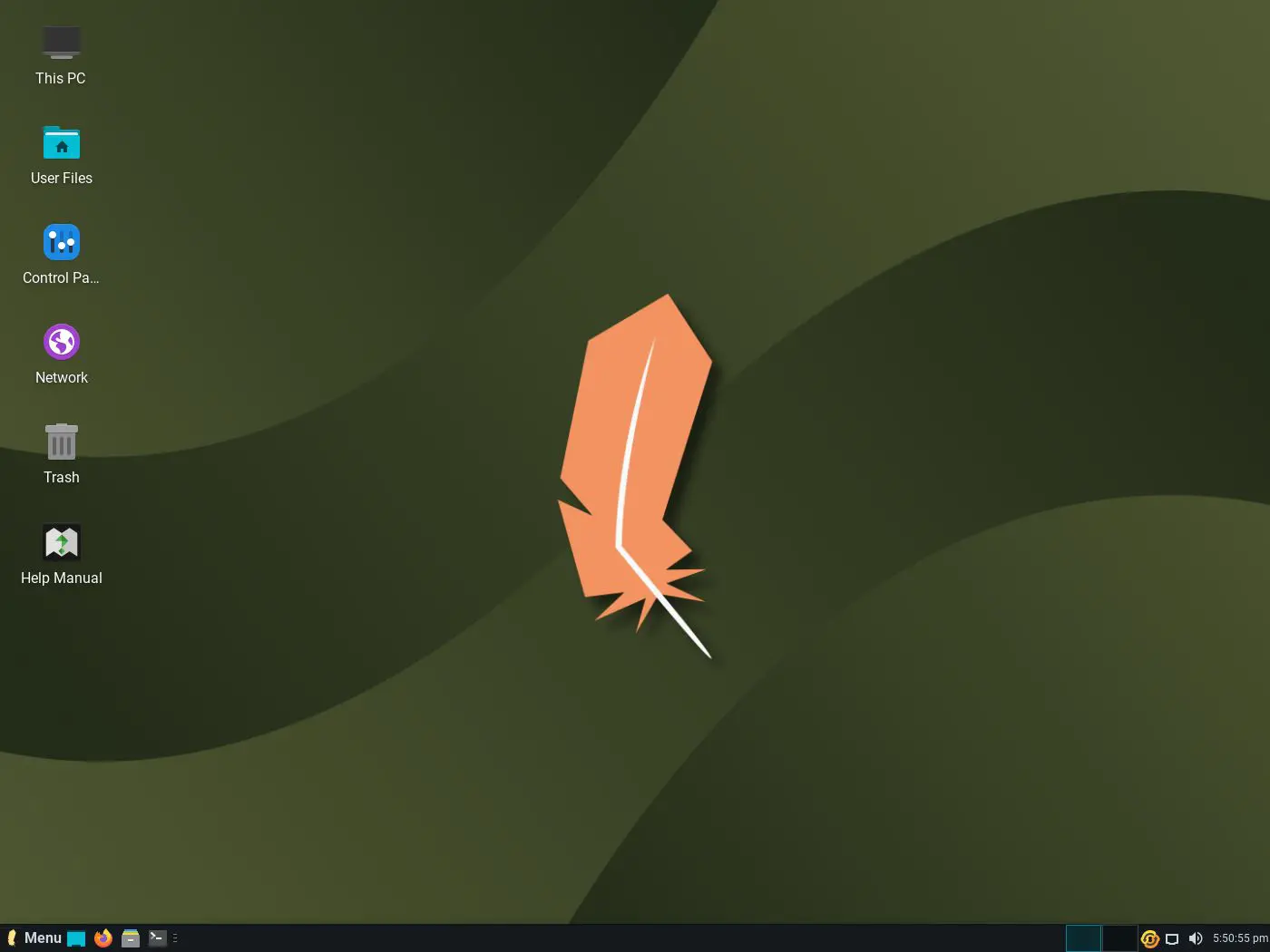 Linux Lite is an Ubuntu LTS-based distro that rocks the XFCE desktop, which is good news with regards to having a snappy experience, especially on lower-end hardware.
Both 64-bit and 32-bit are supported.
Linux Lite System Requirements
RAM
Disk Space
CPU
512 MB (possible, but might be unstable).

768+ is recommended.

I would personally recommend no less than 2 GB if you want to be productive without facing performance issues.

8 GB.
700MHz.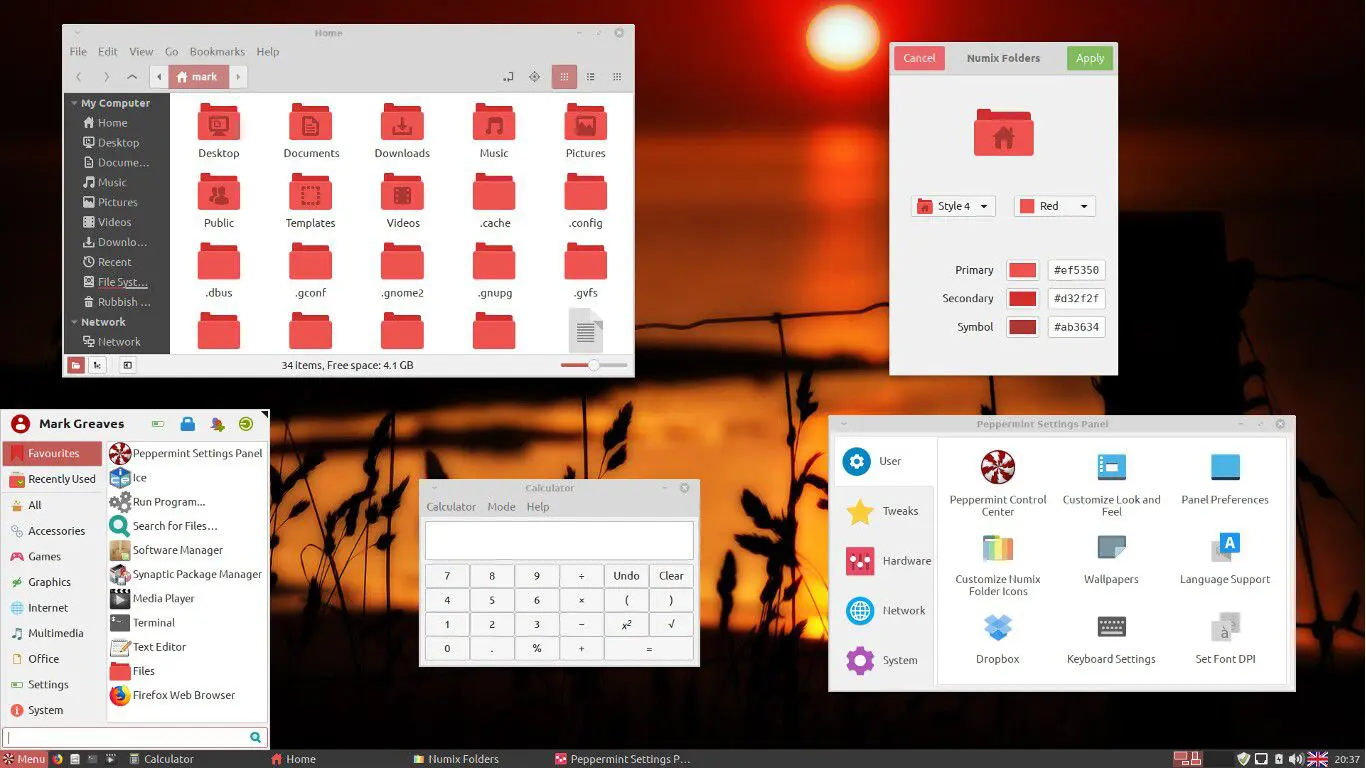 Not only does Peppermint Linux offer you a lifetime supply of Peppermint candies, but it also gives your old hardware a fresh start. It was Mint to be. Okay, maybe I'm not as funny as I think I am.
In all seriousness, Peppermint Linux, was, for me, yet another one of those "it just works" experiences. Peppermint is a Debian Bullseye-based OS that rocks the XFCE Desktop Environment.
Peppermint System Requirements:
RAM
Disk Space
CPU
512 MB.

1 GB recommended.

I personally recommend at least 2 GB if you want to be productive without facing potential performance issues.

4 GB.

15 GB recommended.

I personally recommend no less than 25 GB if you will be using additional apps.

Intel x86 architecture.
50+ more lightweight Linux distros for old laptops
As you can see, there are quite a lot of options out there for old laptops, even if you only check the 10 distros in this list. But, as apparent from this huge list, there are more than 50 lightweight Linux distros that you can use on your old laptop.
Now, Let's Discuss Linux Software for Old Laptops
The most common usage for old hardware is something more lightweight, like writing, taking notes.
If you're going to be using a lightweight distribution, you'll want to have some ideas for lightweight note-taking applications as well. While the minimum requirement for many of these distros is 512 MB RAM, you'll want at least 1 GB if you are going to be even somewhat productive.
Joplin (Free, Paid)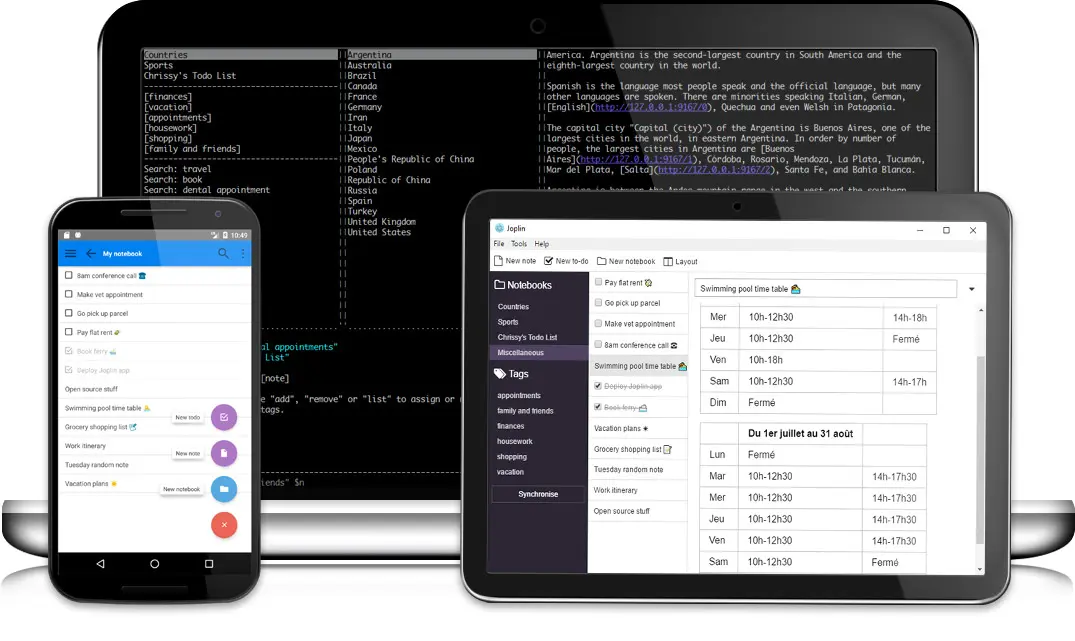 Joplin is a great lightweight note-taking application that supports offline mode or cloud synchronization.
You can organize your notes by tags and notebooks.
You can attach files like images, videos,  PDFs, and audio files.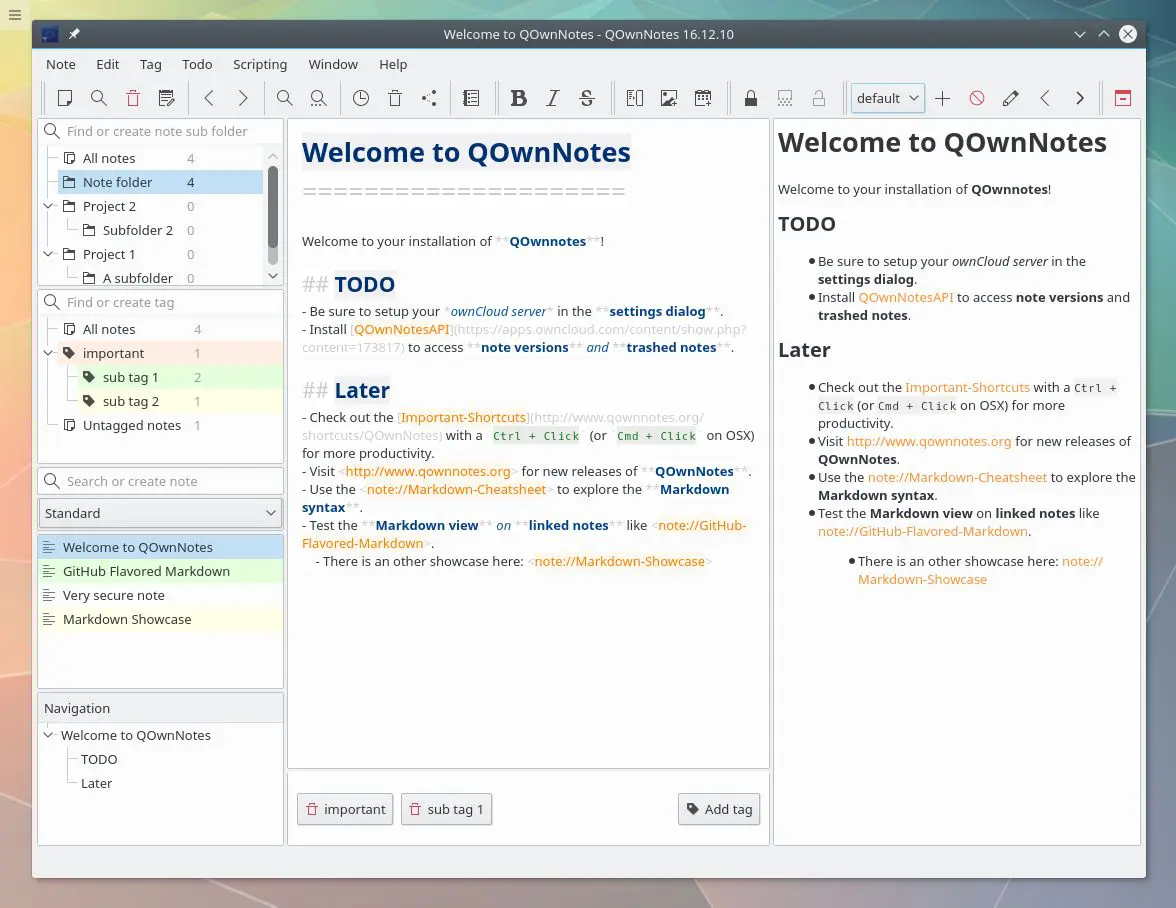 QOwnNotes is a highly-function, lightweight, note-taking application that supports plain-text and Markdown. You can synchronize it using Nextcloud, and of course, store files locally.
You can organize your notes using Folders and Tags.
You can attach images.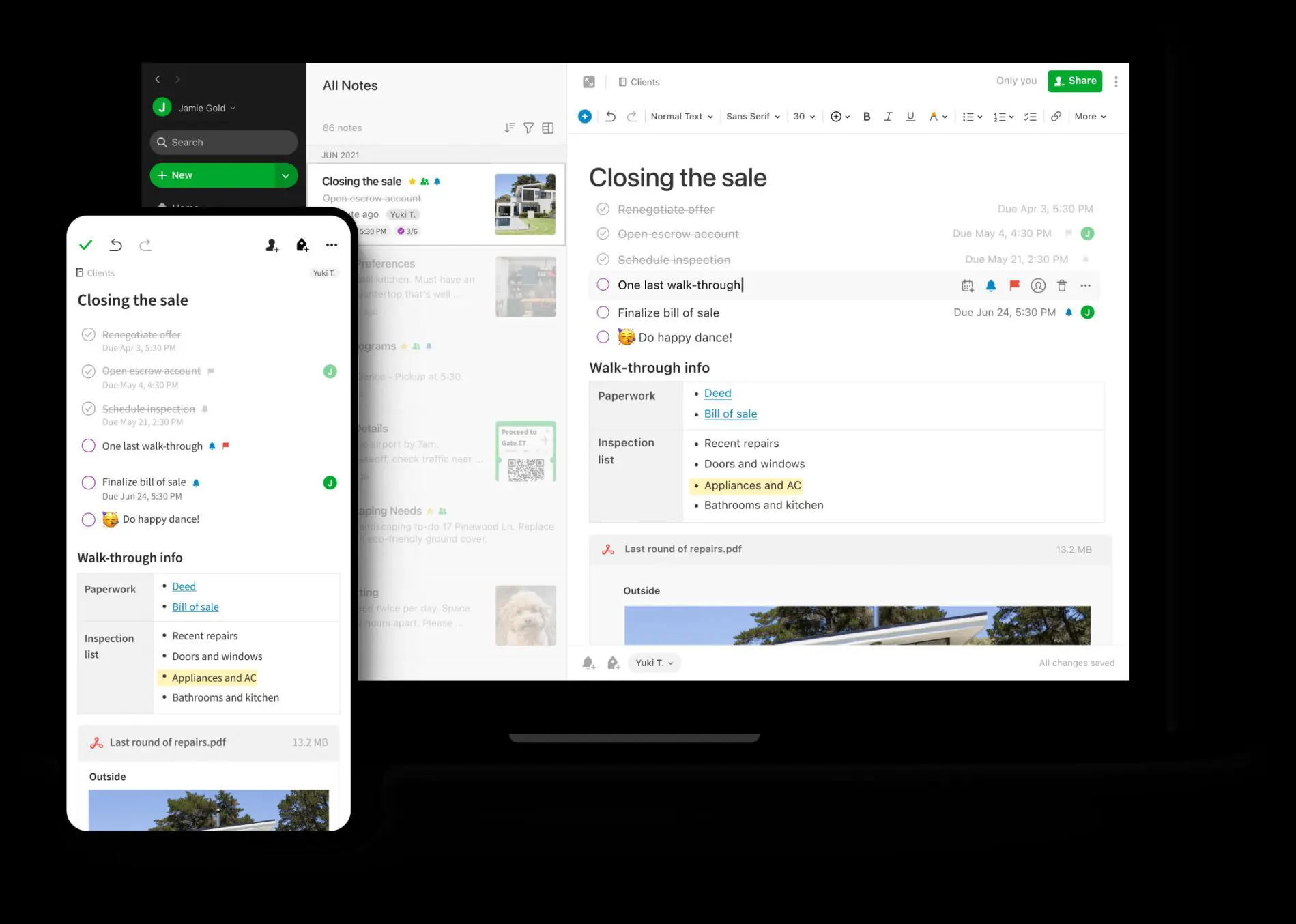 Evernote is a powerful note-taking and task-management application. While its Linux version is in private beta, the web version (especially its new V10) is available to use.
You can organize your notes using Notebooks, Tags, and Stacks.
You can attach images, videos, audio notes, PDFs, PowerPoints, and more. You can also embed other contents into a note.
Its search is extremely powerful.
While V10 is lightweight, it is still heavier than its previous Web iteration, which you can roll back to, should you face any issues.
Evernote's introductory video is a must-watch for anyone desiring to know more about how to be more productive with it.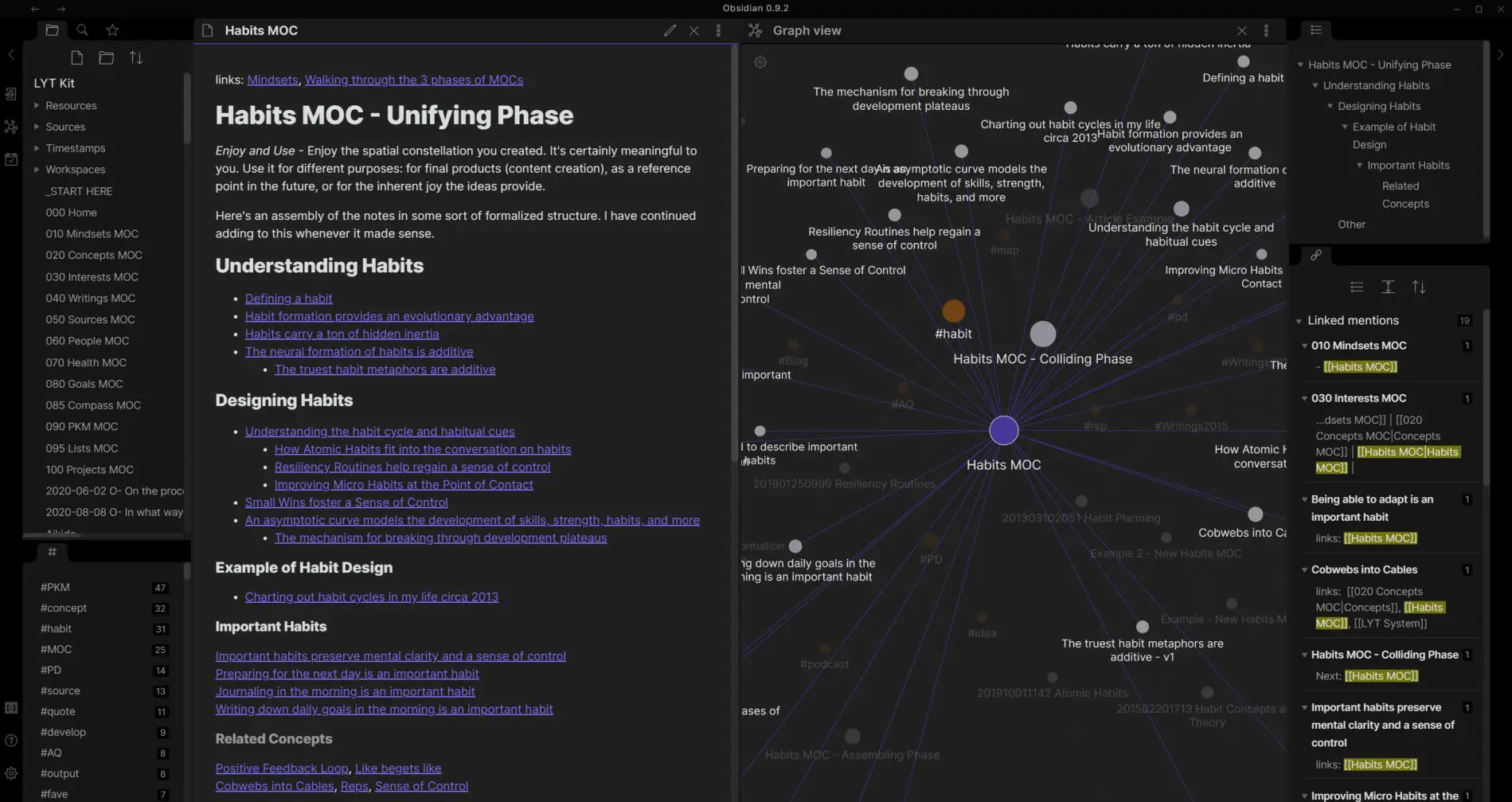 Obsidian is a powerful and lightweight Markdown editor. You can use it offline or pay for cloud synchronization.
Like Evernote, Obsidian prides itself on its ability to become your second brain. Obsidian's fascination with memory stems from its desire to help you never forget information; the more you use it, the more powerful and useful it becomes.
You can attach images, videos, and PDFs.
You can organize your notes using Tags and Folders.
Its search is extremely powerful.
For a more detailed list of note-taking applications, please read this article.
Bonus Tip for Old Laptops: a Lightweight Browser for Linux
If you're going to use your old laptop for browsing, you might as well use a lightweight Linux browser like Midori. You can learn more about Midori in this article.
What Linux distro and software are you using on your old laptop/computer? Leave a comment below.