Every time you install a new distro, go through this checklist and make sure you don't miss anything. The items in this checklist will differ for people with their different distros and use cases, but it's a good starting point and a guideline, a good reminder not to forget anything after installing a distro.
Download a printable version of this Linux checklist
It's available in PDF and PNG. These files are high quality and print-ready.
Here's a preview: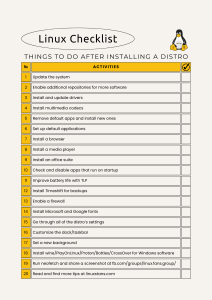 We tend to do the same old tasks every time we install a new distro. Oftentimes, regardless of what distro you're installing, the post-installation tasks are pretty much the same. But sometimes we forget to do something, so this checklist can come in handy.
Use this checklist every time you install a new Linux distro and go through each item so you don't forget to do something. We already have a useful post for Debian, but this checklist isn't specific to any distro, it works as a good reminder for all Linux distros.
Update the system
You can do this via the CLI or the GUI. All desktop environments have a way to update your system through their settings. Our how to update Ubuntu tutorial might help.
Enable additional repositories for more software
These repos always come in handy for additional software that's not available in the default repos from the distros. In some cases, the additional repos have newer versions of the software that are available in the default repos.
Install and update drivers
Drivers might already be installed when you install a distro, but it's always good to check for a newer version. Check your hardware provider's website, you might even find a better driver for your distro, especially if it's a non-free graphics card driver.
Install multimedia codecs
Some multimedia codecs are not installed and enabled by default on some Linux distros, so installing them will help with video playback.
Remove default apps and install new ones
Some distros have certain browsers, office suites, and other apps installed by default. If you don't want to use them, you're free to remove them and install new ones.
Set up default applications
Check the default apps for everything – default browser, default code editor, etc. Update them as needed.
Install a browser
If you don't like the default browser, install a new one. These lists might help:
Install a media player
If you don't like the default media player, you can install a new one. VLC is fine for most use cases.
Install an office suite
Check what the already installed office suite is. In most cases, it should be fine. If you need new ideas, check this list.
Check and disable apps that run on startup
Do a quick check on the apps that are enabled on startup. Also, check the services. If you don't know what they mean or what they're for, it's better to just skip them.
Improve battery life with TLP
TLP is a great tool for Linux if you have a laptop and want to improve your battery life. Check their official website for more details.
Install Timeshift for backups
If you liked the Windows "Restore" option, you'll like Timeshift.
Enable a firewall
Enabling a firewall can be as simple as running a simple command. You can also allow and disable some ports and services to better secure your system.
Install Microsoft and Google fonts
If you're often working with files and documents with Microsoft or Google fonts, having these will come in handy.
Go through all of the distro's settings
This is always a thing I do on all new distro installations. It helps me get familiar with the new system and check out what the distro has to offer. Make sure to dig through all the settings, read them, and configure everything you want to.
Customize the dock/taskbar
You'll be using the dock/taskbar most of the time, so customize it. Enable battery percentage on the battery icon, add a weather widget, add shortcuts, etc.
Set a new background
It's the first thing you'll see once you boot up the system. You'll also be looking at it quite often, so it's nice to have a nice background.
Install wine/PlayOnLinux/Proton/Bottles/CrossOver for Windows software
If you're coming from Windows and especially if you want to play games, install these apps that help run Windows software on Linux.
Run neofetch and share a screenshot at fb.com/groups/linux.fans.group/
Once you're done with everything, show off your system. Join our Facebook group and post a screenshot of your neofetch.
Read and find more tips at linuxstans.com
Make sure to subscribe to our newsletter and keep visiting, we often post new useful Linux content.